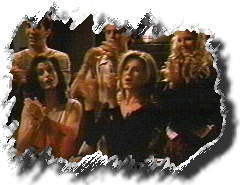 ....Cast





The Creators and Executive Producers !!!
KEVIN S. BRIGHT
(Executive Producer)

Kevin Bright is the executive producer of the comedy series "Friends". Bright, previously the executive producer of the cable Ace Award-winning comedy series, "Dream On". He began his career in New York with the Joseph Cates Company where he produced several variety specials starring David Copperfield, George Burns and Dolly Parton. He later moved to HBO as producer of the Ace Award-winning series, "The History of White People in America". At HBO, he also produced specials for Robin Williams, Merrill Markoe, Martin Mull, Paul Schaffer and Harry Shearer. Bright received a 1990 Emmy Award for Best Comedy Series for his role as supervising producer of "In Living Color". Also served as executive producer of the "Ron Reagan Show." Most recently, he was executive producer of the comedy series, "Family Album."


DAVID CRANE & MARTA KAUFFMAN
(Creators/Executive Producers)

David Crane and Marta Kauffman, creators and executive producers of "Friends," have been writing partners for over 16 years. Previously, they created and co-executive produced the comedy series "Dream On," for which they received a cable Ace Award for writing. Their other television projects include creating the comedy series "The Powers That Be" and "Family Album," on which they served as executive producers. Originally, Kauffman and Crane began their relationship in theater in New York where they teamed with composer Michael Skloff to write several musicals including the stage version of the feature film, "Arthur". They were also co-writers of the book and lyrics for the widely acclaimed musical "Personals," for which they received an Outer Critics Circle Award and Drama Desk nomination. They also contributed material to the off-Broadway revues "A...My Name is Alice" and "Martin Charnin's Upstairs at O'Neals'."


MICHAEL BORKOW
(Executive Producer)

Michael Borkow joined "Friends" at the start of its second season. Previously, Borkow spent two seasons as a writer/producer on "Roseanne," during which he was nominated for a Writers Guild Award. Before that he wrote for the series "Flying Blind." Borkow is a graduate of Columbia Law School and Harvard College, where he was an editor of The Harvard Lampoon.



Created by F*R*I*E*N*D*S Mania 1998.