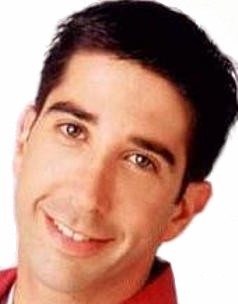 ..
.
David Schwimmer
Biography




In the debut season (1994-95) of "Friends," David Schwimmer's performance as Ross, a sensitive, hopeless romantic, earned him an Emmy nomination as Outstanding Supporting Actor in a Comedy Series.
Born in Queens, N.Y., and raised in Los Angeles, Schwimmer was first exposed to acting when he enrolled in a high-school drama class on a whim. After he completed the course, an instructor encouraged him to attend a summer program in acting at Northwestern University in Chicago. He recalls: "I was sold on acting after that summer workshop because of my experience at Northwestern. It was both enlightening and exhilarating."
After his graduation from high school he returned to Northwestern, where he received a B.S. degree in speech/theater. In 1988, Schwimmer, along with seven other Northwestern graduates, founded Chicago's Lookingglass Theater Company, an ensemble of actors, directors and writers. Schwimmer, who is a writer and director as well as an actor, describes the company as having "a very physical style that uses all of the circus arts -- dance, acrobatics, movement -- as well as the classic training of the theater." Schwimmer's stage-acting credits with Lookingglass include "West," "The Odyssey," "Of One Blood," "In the Eye of the Beholder" and "The Master and Margarita." His stage-directing credits include "The Jungle," which earned six Joseph Jefferson Awards; "The Serpent"; and "Alice in Wonderland," which was performed at the Edinburgh Festival in Scotland.
In 1993 Schwimmer made his debut as a television-series regular on the comedy "Monty." His other TV credits include recurring roles on such series as "NYPD Blue," "L.A. Law" and "The Wonder Years" and a guest-starring role on NBC's "The Single Guy." He also hosted Montreal's "13th Annual Just for Laughs Festival."
His feature films are "Crossing the Bridge," "Flight of the Intruder," "Twenty Bucks" and "The Pallbearer," starring Barbara Hershey and Gwyneth Paltrow. He spent his most recent hiatus directing and starring in the motion picture "Dogwater" for Miramax Films.
Schwimmer enjoys writing and participating in such sports as softball and basketball. He has residences in Los Angeles and Chicago. His birthday is November 2.
David Schwimmer
Created by F*R*I*E*N*D*S Mania 1998.