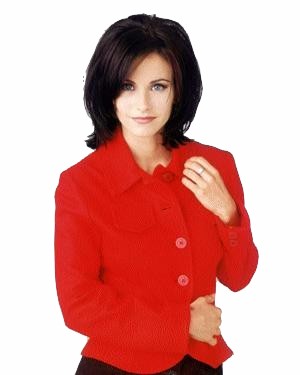 ..
.
Courteney Cox
Biography





A native of Birmingham, Ala., Courteney Cox moved to New York City after her graduation from high school and was subsequently signed by the Ford modeling agency. Shortly thereafter, she started working in television commercials for Maybelline, Noxema and the New York Telephone Company, among other sponsors.
In 1984 Cox made her acting debut on the daytime drama "As the World Turns." Later that year she appeared in Bruce Springsteen's music video "Dancing in the Dark." She was cast by director Brian DePalma to portray the young fan whom Springsteen pulls out of the audience to be his dance partner.
Before "Friends," Cox's most memorable television series role was that of Lauren, Alex P. Keaton's (Michael J. Fox) girlfriend on "Family Ties." Her other television credits include regular series roles on "Misfits of Science" and "The Trouble with Larry" as well as guest-starring parts on such hits as "Murder, She Wrote," NBC's "Seinfeld" and the cable series "Dream On" and "The Larry Sanders Show." She has starred in several television movies, including "Prize Pulitzer," "Battling for Baby" and "Curiosity Kills," as well as in the miniseries "Till We Meet Again," based on Judith Krantz's best-selling novel.
Of her motion-picture credits, Cox is perhaps best known for her starring role opposite comedian Jim Carrey in the box-office hit "Ace Ventura: Pet Detective." Her other feature films are "Down Twisted," "Masters of the Universe," "Cocoon: The Return," "Shaking the Tree," "Mr. Destiny," "Blue Desert" and the upcoming films "Commandments" with Aidan Quinn, and Wes Craven's "Scream," starring Drew Barrymore.
On stage, she starred with Michael Spound in "King of Hearts" at the Tiffany Theatre in Los Angeles.
When she is not working, she enjoys remodeling and decorating homes. Cox lives in Los Angeles. Her birthday is June 15.
Courteney Cox
Created by F*R*I*E*N*D*S Mania 1998.