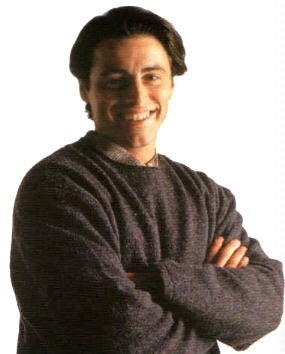 ..
.
Matt LeBlanc
Biography





After receiving his first motorcycle at age 8, Matt LeBlanc started participating in various amateur competitions with hopes of racing professionally. He soon ran into a roadblock: his mother, who forced him to find a different outlet for his talents. He trained for a career in carpentry, but aspired to incorporate artistic elements into it.
Upon his graduation from high school, he set his sights on making a life for himself in New York City. By 1987 he had obtained parts in national television commercials for such products as Levi's 501 jeans, Coca-Cola and Doritos. He also appeared in a Heinz catsup spot that won the prestigious Gold Lion Award at the 1987 Cannes Film Festival.
In 1988 LeBlanc started formal acting training. Within a year he landed a starring role on the television series "TV 101," and relocated to Los Angeles. His TV credits since then include starring roles on "Top of the Heap" and "Vinnie & Bobby" and in the movie "Anything to Survive" (opposite Robert Conrad). He also guest-starred on the cable series "Red Shoe Diaries" and starred in "Reform School Girls," the final installment of "Rebel Highway," a one-hour cable anthology series.
LeBlanc made his feature-film debut in "Lookin' Italian" with Alanis Morissette. He recently starred in the family comedy feature film "Ed," which was directed by award-winning documentarian Bill Couterie. His latest film is "Lost In Space".
During the past 10 years he has developed a passion for landscape photography, which has taken him to such locations as Amsterdam, Switzerland, Germany, Vancouver and various places in the United States.
LeBlanc lives with his dog, Lady, who was one of the first friends he made when he moved to Los Angeles. His birthday is July 25.
Matt LeBlanc
Created by F*R*I*E*N*D*S Mania 1998.